In addition to the wet/messy/dirty character/actor cups, I made items for last night's birthday party to score a line bingo. This is a diagonal on my card from upper left to lower right, filling the squares for anonymity, confined/caged, tentacles, medical kink and breathplay.

Preview: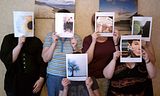 &nbsp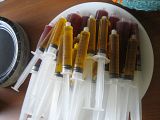 Close-ups and step-by-step processes behind the cuts:



Anonymity

Rather than make a foodstuff for "anonymity," I thought it would be fun to play on the fact that all the party attendees are on LJ/DW and use pseudonyms and avatars. So, with permission, I printed out everyone's default user icons and we took some group photos.






(That is probably the closest you'll get to a photo of me, heh. Also note cinco's tentacle shirt and synn's lovely corset [dress-up kink and/or historical roleplay]!)




Confined/Caged

I thought it would be cool to try to make a set of cages out of chocolate and place them over some cheese cubes or something. Happily,
ellen_fremedon was willing to team up for this one, and she brought a collection of fruit from that morning's farmer's market. Less happily, the chocolate cages were pretty much a complete mechanical failure, ha. Note to self, c/o synn: Next time, try candy melts instead of chocolate chips; they're more likely to hold their shape instead of flopping and flattening within five minutes of removal from the refrigerator.

Anyhow, the process seemed to go well at first.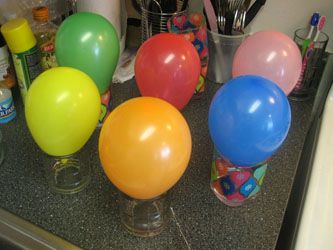 Step one: Assemble ingredients: Chocolate for melting, small balloons for shaping, and cups to hold the balloons. Blow up the balloons and set them in place.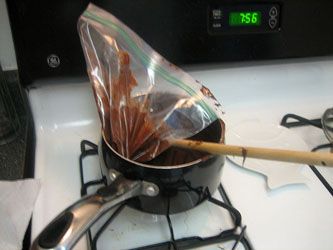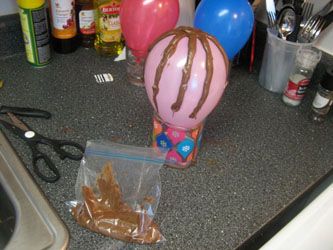 Step two: Carefully melt chocolate. Put in fake pastry bag. Clip off one corner. Squeeze the chocolate onto the balloon in a cage pattern.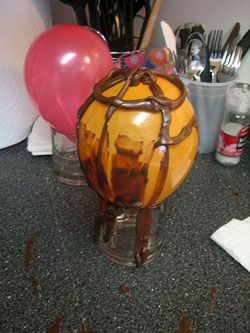 N.B.: Don't follow the instructions you found that recommended priming the balloons with a thin layer of oil, as the chocolate will promptly begin a tragic slide onto the countertop.






Step three: Refrigerate until set. Or until sort of set, since this chocolate didn't properly set until we stuck it in the freezer, and by then it was too late. :( Turn the balloon upside-down.






Step four: Use a sewing needle to poke a small hole near the knot. This allows the balloon to deflate without popping and shattering the chocolate.






Step five: Keep fridged until it's time for transport. For the trip,
synn had the great idea to cut holes in a box and let the cages sit in them.

Everything was fine for about ten minutes. Then the cages gave up the ghost. It wasn't warm in my apartment, the car ride wasn't rough; they just didn't want to hold their shapes. We had an emergency triage once we got to
cincodemaygirl's place (she very kindly hosted the party), in which I rescued the softened cages, laid them flat on foil, and stuck them in the freezer. That actually worked; should have done that in the first place.

In fact, it worked a little too well, because when it came time to put them over the fruit for dessert, they didn't want to drape. In they went for half a minute in the microwave. Sigh.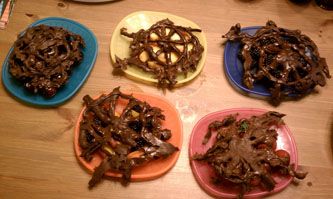 But all turned out well enough: We enjoyed a set of (sloppily) encaged fruits.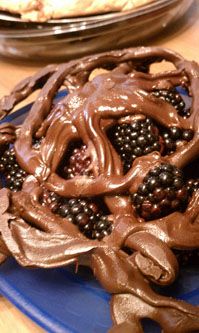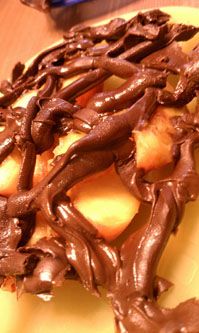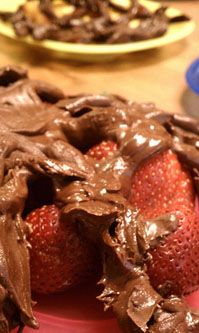 Blackberries, peaches, strawberries. There were also cherries. Yum.





Free square: Tentacles

I saw this adorable pepper tentacle monster while scouring Pinterest for party theme ideas early in the month and knew I wanted to make it one day. The free square on my Bingo card provided an excellent opportunity.

Making it is super easy. I made a double batch of onion dip and bought four peppers, two orange and two yellow. For each creature, you cut off the top of one pepper and stick the rest face-down in the dip, then affix eyes. I used some stickers my sister had given me a few years ago. (synn had the idea to use the glasses, hee.) Then you slice up a second pepper, taking advantage of curly parts, and stick those in the dip to look like tentacles.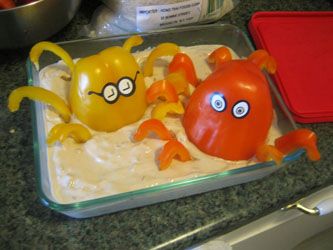 And there you have it!





Medical Kink

The second thing I saw online that sealed the deal for a Kink Bingo theme was this post about loading Jell-O shots into (no-needle) syringes. Sign me up!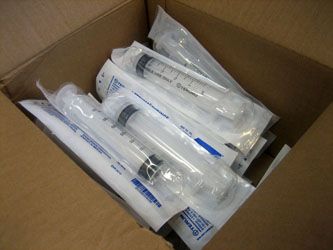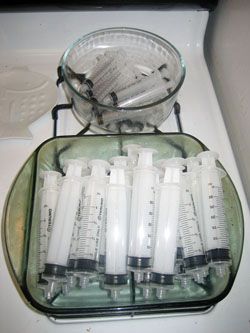 Step one: Acquire some syringes. (I got a set from a veterinary supply place, only to discover that 16 ccs isn't as big as I wanted, so then I got a second, 30 cc set from a medical supply place on Amazon.) (I'm pretty sure there are places locally that sell stuff like this, but Googling didn't turn up anything other than insulin prescription information and needle exchange programs.)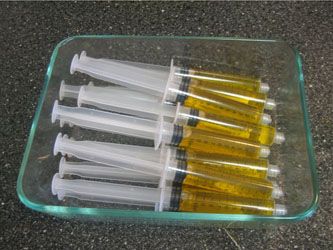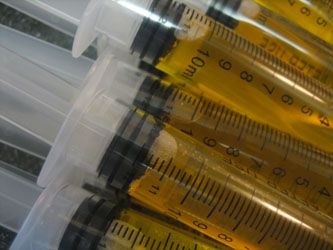 Step two: Assemble ingredients for each batch. I used mango (yellow) Jell-O and amaretto for the small syringes. Hee, bonus watersports.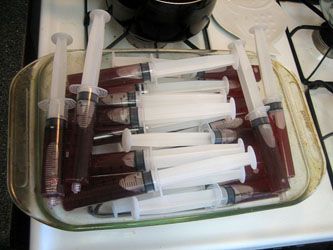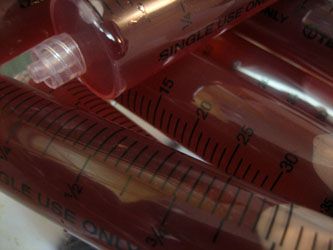 Rinse and repeat. Vodka and vegetarian-friendly raspberry gelatin for the larger syringes. I'd heard that adding blue Curaçao would make the Jell-O look bloodier, but mine turned purple so I had to add about ten drops of red food coloring to bring it back.






Refrigerate until set. Enjoy!




Breathplay

Last but not least. This one was the trickiest to fill. I'd been playing around with using foods whose names involve breathplay-related words, but there weren't enough.
kassrachel provided the key when she suggested using pictures of people's mouths and putting food items on top of them. That gave me the idea to collect fannish breathplay pictures and make a placemat out of them. For the food to serve on top of it, I settled on a simple marinated artichoke and parmesan appetizer.

(Get it? Artichoke? GROAN ALL YOU LIKE, I think it is hilarious.)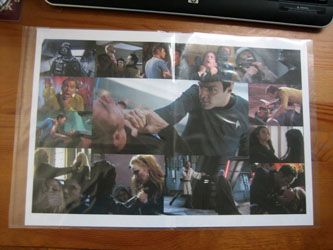 The placemat, slid inside an 11x17 plastic sleeve. Here is a a JPG version of the file for your enjoyment.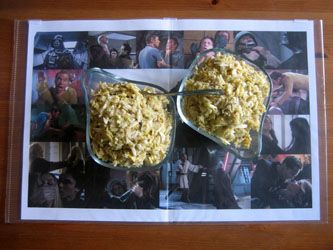 Yummy.




Guest contributions

Of course, I was not the only one who brought stuff to the party. Among the other amusing, clever and/or delicious offerings were: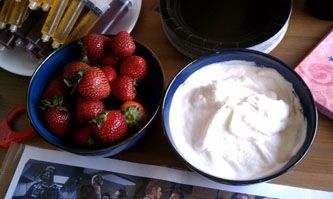 Strawberries and cream from
alpheratz (vanilla kink)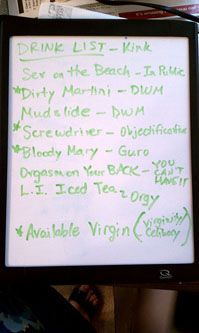 Kinky cocktail menu & ingredients from
deelaundry (orgasm denial, in public, virginity/celibacy, orgy, more tentacles…). Dee also supplied a box of edible ageplay accoutrements such as Cheerios, juice boxes, veggie puffs and fruit snacks, along with a sippy cup. Temperature play came in the form of a different plastic cup that changed colors with hot or cold water.




cincodemaygirl made dates stuffed with blue cheese and wrapped with bacon. We proposed bacon bondage, but cinco preferred to think of it as a cheese ball gag and a bacon blindfold.






Pasta salad from
v_greyson, mm. We assigned it vehicular kink because of the wheel shapes.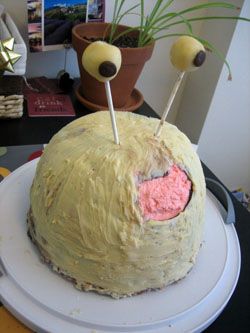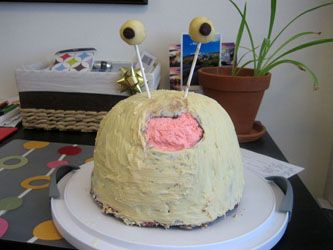 ALSO.
synn baked a characteristically amazing cake for the occasion. We decided that with its Muppet resemblance, it could fit plushies/furries.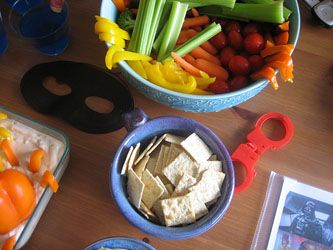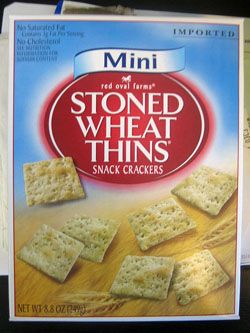 Miscellaneous table items included plastic handcuffs (bondage), a 99-cent mask (more anonymity), and these "I Dream of Jeannie" napkins I found in the party store (masters/doms/slaves/subs). Do "stoned wheat crackers" count for drugs/aphrodisiacs? If not, we certainly had enough alcohol in the room to suffice. And blades to cut the cake as well as the pie
ellen_fremedon brought.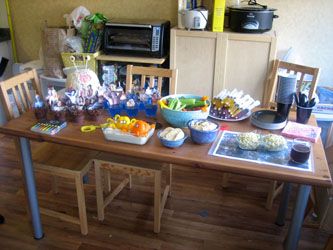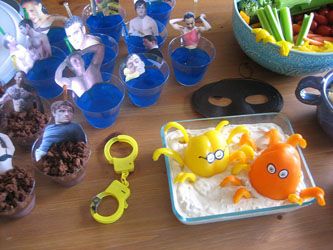 And of course, the whole table filled the "food" square. :)

And that, I believe, about covers it! It was great fun, and I'm glad to be able to share it with you.

Will post the vid list at some later point here.